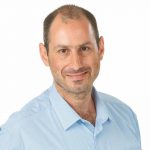 Doctor Yoav Kapshuk
Head of the Israeli Studies Division in the Multidisciplinary Studies Department,
School of Social Sciences and Humanities
Education and Community B.A, Interdisciplinary Studies B.A
Conflict resolution, international relations, political science
Political science
Transitional justice
Yoav Kapshuk (2019) Transitional Justice in the Israeli-Palestinian Negotiations: What can be learned from the Colombian Case? Journal of Peacebuilding & Development, 14(1).
Yoav Kapshuk (forthcoming). Reconciliation in peace agreements? The case study of Israeli-Palestinian peace process. In: Francesco Ferrari, Martin Leiner (eds.), Encountering the Suffering of the Other. Transdisciplinary Perspectives from the DFG Project "Hearts of Flesh-not Stone" (temporary title). Göttingen: Vandenhoeck and Ruprecht .
Yoav Kapshuk (2016). To What Extent Reconciliation? An Analysis of the Geneva Accords between Israelis and Palestinians. In: J. Ehrenberg and Y. Peled (eds.), Israel and Palestine: Alternative Perspectives on Statehood. Lanham, MD: Rowman and Littlefield
Interested in Kinneret Academic Studies?
Fill in your details and a study advisor will get back to you soon!