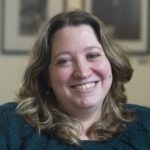 Dr. Daskal Efrat
Lecturer ,
Communication, School of Social Sciences and Humanities
B.A. in Multidisciplinary Studies, B.A. in Communication
media law and policy, digital policy, ethics
Quantitative research methods, "behind the scenes" of the internet (digital policy),
Member at the center for Promotion of Learning and Teaching
Daskal, E., (2020). Advocacy as education: The educational activities of digital rights advocates. In M.   Hoechsmann, S. R. Poyntz, D. Frau-Meigs, M. Pathak-Shelat and S. Kotilainen (Eds.). Handbook on Media Education Research. IAMCR Handbook Series publications.
Daskal, E. Wentrup, R., Shefet, D. (2020). Taming the Internet trolls with an Internet ombudsman: Regulating social media? Internet and Policy. 
Daskal, E. (2019). The battle over the living room: Constructing an accountable culture. In T. Eberwein, S. Fengler and M. Karmasin (Eds.). Media Accountability in the Era of Post-Truth Politics: European Challenges and Perspectives. Routledge – ECREA.
Daskal, E., (2017). The Israeli Digital Rights Movement's campaign for privacy. Internet Policy Review, 6(3).
Daskal, E., (2017). Let's be careful out there…: How digital rights advocates educate citizens. Information, Communication and Society, 21(2), 241 –256.
I research media and digital policy, but more of a believer in activism and public participation than in traditional regulation. Believe that through good education and communication, one can (slightly) change the world.
Interested in Kinneret Academic Studies?
Fill in your details and a study advisor will get back to you soon!